RED SHAMBHALA
Magic, Prophecy, and Geopolitics in the Heart Of Asia
<![if !vml]>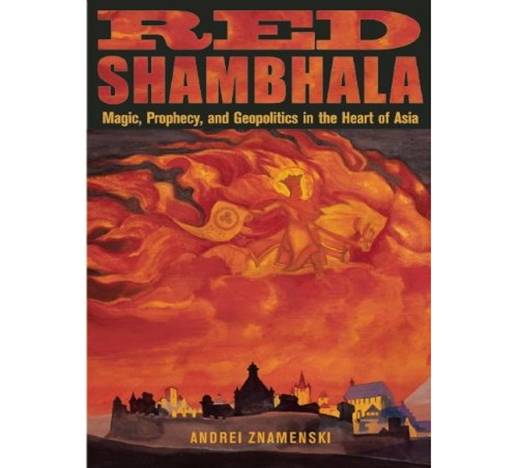 <![endif]>
Abstract:
Shambhala is an ancient Tibetan Buddhist prophecy about the land of spiritual bliss.  At the same time, it was a powerful call for spiritual resistance originally directed against Muslim invaders in the early middle ages.  Using archival sources and memoirs, Red Shambhala explores how in our, modern age, particularly in the 1920s and the 1930s, a group of people (spiritual adventurers, revolutionaries, and nationalists) wanted to use Shambhala and related prophecies of the Tibetan-Mongol world (Oirot, Amursana, and Geser) to promote their spiritual and geopolitical schemes.
The greater part of the book is focused on the Bolshevik attempt to use Mongol-Tibetan prophecies in their "liberation theology" to railroad Communism into Inner Asia. It explores clandestine activities of the Bolsheviks from the Mongol-Tibetan Section of the Communist International who took over Mongolia and then, dressed as lama pilgrims, tried to set Tibet ablaze.  The reader will enter a bizarre geopolitical contest over indigenous prophecies between the Bolsheviks and their powerful opponents: Ja-Lama, an "avenging lama" fond of spilling blood during his tantra rituals, and renegade Baltic baron Roman von Ungern-Sternberg, who wanted to plug into Tibetan Buddhist legends in order to revive monarchies both in the east and in the west.
We also meet Buryat monk Agvan Dorzhiev, a former tutor for the 13th Dalai Lama and a one-time Bolshevik fellow-traveler, who wanted to bring all Tibetan Buddhist people of Inner Asia into a huge theocracy, and his fellow countryman, Elbek-Dorji Rinchino, the first Red dictator of Mongolia, who nourished a utopian dream of building up a socialist republic that would unite Tibetan Buddhist nationalities from Siberia to Tibet.
Another prominent character profiled in Red Shambhala is Nicholas Roerich, the Russian painter and occultist, who toyed with the same idea of merging Tibetan Buddhism with Communism.  Driven by his otherworldly Master, he posed as a reincarnation of the Dalai Lama and flirted with the Bolsheviks in an attempt to unleash the Shambhala war in Tibet. The ultimate goal was to bring about the Sacred Union of the East – a Tibetan Buddhist theocracy that would spiritually regenerate humankind. The book also draws attention to Roerich's friend and another interesting character - Franklin Delano Roosevelt's Vice-President Henry Wallace, who similarly tapped into Buddhist wisdom in the hope to engineer a better world.
Last but not least, we meet such characters as Gleb Bokii, the secret police commissar and the chief Bolshevik cryptographer, who, along with his friend writer Alexander Barchenko, tried to use the Shambhala prophecy and Kalachakra techniques to conjure the ideal Communist human being.
Despite their differences, all these seekers were driven by the same totalitarian temptation – a quest for power and ultimate solutions.  They were sincerely convinced that they would be able to build a paradise on the earth – an orderly human commonwealth devoid of any spiritual and social contradictions.  It was only natural that almost all of these "enlightened masters" ended their lives tragically. Essentially, Red Shambhala is a sad story about political power and spirituality – a story that is set in the turbulent environment the past 20th century, which one historian once called the age of extremes.
---
Contents:
Preface

Shambhala

,

Kalachakra

Tantra

, and Avenging Gods of Tibetan Buddhism

Power for the Powerless: The Mongol-Tibetan World and its Prophecies

Alexander

Barchenko

: Budding Red Merlin and His Ancient Science
Engineer of Human Souls: Bolshevik Cryptographer

Gleb

Bokii

Prophecies Draped in Red: Blood and Soil in the Heart of Asia
Red Prophecy on the March: Mongolia to Tibet 127

Th

e Great Plan: Nicholas and Helena Roerich 155

Shambhala

Warrior in a Western Body: Nicholas Roerich's Asian Ventures

Epilogue: The End of Red

Shambhala

217
---
Excerpt taken from Chapter 7
NICHOLAS AND HELENA ROERICH: PEOPLE OF THE GREAT PLAN
As Nicholas and Helena explained to their adepts, on the morning of October 6, 1923, someone knocked on the door of their room at Lord Byron Hotel.  George Roerich opened the door. The visitor introduced himself as a clerk from the Paris Bankers Trust. The clerk quickly handed him a mysterious package and immediately departed.  When Helena, George and Nicholas opened the package, they found a small box inside decorated with silhouettes of a man, woman, kingfisher, and four gothic letters engraved "M" on the edges.  However, the real surprise was inside the box itself – a black shiny aeroliths stone.  The next day from Paris, telegrams flew to all associates of the Roerichs in various countries: lo and behold, the Great White Brotherhood entrusted the Roerichs with the sacred Chintamani stone. This magic jewel, which possessed incredible power, was to be carried on their Asian expedition and be delivered to the Shambhala kingdom. 
In Tibetan Buddhist tradition the Chintamani stone is known as a wish-granting gem.  Ferocious deities, protectors of the Tibetan Buddhist faith, were frequently portrayed on sacred scrolls holding this stone. On these scrolls the Chintamani is depicted as either an ordinary jewel or a stone engulfed in flames – this theological link to the Roerichs' Agni (Fire) Yoga might have been a reason why they were attracted to this sacred item.  The Roerichs described Chintamani as a powerful occult geopolitical weapon that would help their Asian mission.  Now they could act not only as prophets who could fulfill wishes by using the "wish-granting gem," but also as protectors of the Buddhist faith: "The stone draws people like a magnet.  Entire nations can rise up if one lifts the stone up.  An enemy can be destroyed if you say his name three times looking at the stone.  Only people who are pure in their spirit and thought can look at it." It is highly probable that George Roerich, a professional student of Tibetan Buddhism who was shrewd in intricacies of this tradition, fed the Chintamani legend to his parents who then layered on it their own personal mythology and then manufactured the entire story about the mysterious gift. 
The fantasy of the couple moved further.  The Roerichs wrote to their friends that the Chintamani was not only about Asian tradition.  The magic gem was also known to the ancient Druids and to European bard singers (Meistersingers) as Lapis exilis.  The stone "delivered" to the Roerichs was wrapped in a piece of old fabric that has an image of the sun with mysterious Latin letters inside the sun circle: I.H.S., which might be rendered as "In hoc signo [vinces]" ("by this sign [you will win]).  The same Latin abbreviation was inscribed on the banner of Constantine the Great, the famous Roman emperor who was the first to legalize Christianity.  Weaving Buddhist and European mythology together, the Roerichs argued that the Chintamani magically disappeared and then reappeared at crucial historical moments to be handed to the righteous ones who guided humankind to a better future.  Of course, the righteous people were the painter and his wife. 
Armed with the power of the sacred stone, on December 2, 1923, George, Helena, and Nicholas, the three Shambhala warriors, reached Bombay.  By railroad, the family quickly traveled to northern India where they stopped in the town of Darjeeling (a corrupted version of Dorje Lingam (Hard Penis), the capital of Sikkim.  Here, in the "hard" town, famous for the tea that grows in the area, the Roerichs established their temporary base.  For their residency they picked up not just any house, but a small summer cottage called the Palace of Dalai right on southern slopes of the Himalaya; the place was once used by the 13th Dalai Lama when he had to flee from the wrath of the Chinese in 1910.  The painter and his wife feasted their eyes on the picturesque site surrounded by mighty cedar trees. From their windows they could enjoy a divine view of the Himalayan ranges and valleys.  Somewhere north of these mountain ranges lay mysterious Shambhala and her prophecies, waiting to be stirred and awakened.
---
Reviews:
Red Shambhala enters a maze of intrigue with a colourful cast of Bolshevik secret police officers, spies, occultists, Mongolian warlords and Buddhist monks. Andrei Znamenski shows how Soviet Communists in the 1920s sought geopolitical influence over Mongolia and Tibet, projecting their world revolution onto ancient messianic prophecies amongst Inner Asian tribesmen. Inspired by the myth of hidden sages directing the world's destiny, the Roerichs add visionary adventure amid the great game of competing powers, England, Russia, China, for mastery of the East. A first-rate espionage story, all from recently opened Soviet archives. (Nicholas Goodrick-Clarke, author of The Occult Roots of Nazism and Black Sun)

Red Shambhala is a rare, rigorous exploration of a landscape where occult drama and political intrigue meet, and where human hopes and ideological schemes inevitability, and tragically, collide. Andrei Znamenski handles all of this delicate material with depth, poignancy, and the drama of great historical writing. (Mitch Horowitz, author of Occult America)

Red Shambhala is a fascinating, and at times astounding, story about the interplay of mysticism and politics in the shadow of Stalin's Russia. The lines between mystical seekers, secret policemen, spies and charlatans constantly cross and blur and the story, not surprisingly, ends tragically for almost everyone. (Richard Spence, Professor of History, University of Idaho)

Fascinating, compelling and erudite, Red Shambhala, utterly readable yet a work of impressively pioneering scholarship, is a history of Western mysticism, Mongolian/Tibetan Buddhism and imperial geopolitics, filled with stories of derrring-do and a cast of unforgettable mystics, monsters and adventurers. A wonderful read. (Simon Sebag-Montefiore, author of Young Stalin and Jerusalem: The Biography)

Andrei Znamenski's Red Shamabala draws on wide-ranging research but reads like the best of thrillers. Anyone interested in the complicated history of Russia's relationship with the worlds of Tibet and Mongolia should read this fascinating and engaging book. (Willard Sunderland, Professor of History, University of Cincinnati)

An amazing story, told by a fine scholar, but writing accessibly rather than just for other scholars. Larger-than-life characters against the background of a myth of Shambhala that haunted the Russian imagination as it did the Western, but with rather different consequences. Sometimes worrying, sometimes entertaining, and always informative. (Mark Sedgwick, Associate Professor, Aarhus University and author of Against the Modern World: Traditionalism and the Secret Intellectual History of the Twentieth Century)

Znameski's new book is a challenge for everyone who refuses to accept connections between legend and politics. Red Shambhala gives a solid piece of evidence that the atheist communist ideology of the 20th century did not disdain to use a Tibetan Buddhist myth as a sort of instrumentum regni, actually a political tool for propaganda; Russian left and right thinkers, and spiritual seekers as well, were united in an old-fashioned idea of rebirth, dreaming of an egalitarian Land – a Red Shambhala –, where a changed humankind could live in a New Era of peace. Prof. Andrei Znamenski provides a ground-breaking investigation, through which we are aware that the Sacred and Profane can share the same mythical milieu: a must-read book for people interested in that fuzzy area between Mystique, Esotericism and Politics. (Marcello De Martino, PhD, Istituto Italiano per l'Africa e l'Oriente, Rome, Italy and author of Mircea Eliade esoteric)

Professor Znamenski pursues the improbable merging of two prophesies after the Russian Revolution, the future Commmunist utopia with the ancient Buddhist myth of Shambhala, the return of a redeemer who would lead suffering people into a golden age of spiritual and sensual bliss. Combining Victorian parlour mysticism, a cast of eccentrics, the rise of modern nationalism, the intrigues of the Bolshevik secret police and a Comintern bent on world revolution, and an arena as big as all Asia -- this is high drama indeed. (Max J. Okenfuss, American Editor - Jahrbücher für Geschichte Osteuropas )
---
'Red Shambhala' -Telepathy, Mental Powers, Electronic Surveillance & Mysticism in the U.S.S.R by John L. Murphy
While the practical experiments of laboratories bent on superhuman creations failed as surely as did the subversive aims to spark revolt on the Mongol plains or in the Tibetan monasteries, the lesson of this unbelievable plot lingers in this thoughtful, instructive, and sad testament of grand hopes and puny fates.
Why did early Bolsheviks sponsor expeditions for occultists obsessed with a Shangri-La? Russian historian of shamanism Andrei Znamenski answers this in his engaging study of characters caught up in an unlikely pairing. It matched Marxist communal ideology with New Age-tinged notions of totalitarian theocracy. It conquered, if briefly, the steppes of Mongolia as a vanguard for a pan-Buddhist takeover of Central Asia. Even before the October Revolution, plans to spark uprisings in the inner Asian fastnesses grew. Secret plans by geopolitical instigators circulated that the fulfillment of apocalyptic promises loomed, so the communist conspiracy to sign on fellow travelers here recruited strange companions.
Careful manipulation of shamanic myths and Buddhist prophecies crafted by self-made scholars and savvy spies sought, after the 1917 Revolution and during the Red-White Civil War, to advance the Communist cause. Convincing natives in the Siberian and Himalayan regions, a few adventurers reasoned this call to unity could challenge the British rule of India, weaken the Whites, and totter the Chinese warlords. Adventurers seduced by Orientalism told their Soviet overlords that native peoples across the East would rally towards liberation, and as ancient predictions came true, the nations that the U.S.S.R inherited would take one giant leap closer to the Soviet-sponsored global triumph of the poor over the pampered. Znamenski combines his expertise in shamanism and Central Asian teachings with Western esotericism, and the results, enriched by newly opened Soviet-era archives, provide an accessible entry into a fascinating saga.
He prefaces his narrative with essential cautions. Rather than try to argue how one version of the famously puzzling tantric and hidden teachings of Buddhism combined with native lore do or do not align with the true version of Shambhala's myth, he regards each version as fitting whatever time and place created it. Znamenski regards every religious or spiritual manifestation as fluid, and this open-minded quality allows him to remain detached from the notoriously convoluted applications of difficult texts to simplistic political solutions. Even if the characters themselves appear less than logical about how Buddhist teachings can square with Marxist materialism and Leninist class warfare, the author here wisely keeps his distance from such fruitless attempts to make sense out of nonsense. However, as an aside, this book appears under the aegis of a Theosophical press, so I note that when it comes close to assessing the veracity of Madame Blavatsky's own inventions, Znamenski chooses to remain guarded or nearly reticent.
Certainly, a century ago many looked to the East via Theosophy, magic, spiritualism, and the New Age to answer their doubts and dreams about the potential chaos and coherence of the modern era. The counterculture then romanticized, as did the Beats, hippies, and backpackers later, the appeal of an Eastern teaching. Both conservative and radical misfits reasoned that Eastern promises could redeem Western corruption and bring about equality, order, and the restoration of goodness over wealth. Many self-taught adepts wished or claimed to harness the inner powers latent in those who had forgotten arcane doctrines and magical methods. The repository for such solutions lay waiting in remote Shambhala, and the forces unleashed from its Central Asian or Himalayan hideaways could be harnessed to the Marxist goal of liberating the oppressed to fight for a golden era once the proles destroyed the aristocrats.
This tale opens—after some lucid and at times lurid introductory material on Tibetan and Mongolian teachings, cultures, and doctrine—with Alexander Barchenko. His occult pursuits influenced his idea for social reform. Discouraged by the Red Terror that obliterated the White resistance to communism after the October Revolution, Barchenko sought a peaceful method by which equal rights could be established and Marxism implemented without bloodshed. As a "Red Merlin" he wished to build a communist theocracy "controlled by peaceful and spiritually charged high priests of Marxism".
His boss became the chief cryptographer of the most secret of the Soviet intelligence agencies. This agency experimented with telepathy at a distance, re-engineering of mental powers, electronic surveillance, and what we would label parapsychology. Its chief, Gleb Bokii, agreed with Barchenko that Marxism possessed an appeal for Asians as a surrogate religion, if a transitional stage that could be manipulated among the peasants and nomads to convince them to join the Leninist banner and to bring about the victory of the downtrodden.
Many appealing details enliven this stage of the story, as a few visionary Soviets support this strange plan. Whispers of mind control, nudism, orgies, mummified penises, a talismanic meteorite, and black magic circulated, while Znamenski neatly relates how eccentric and bold many early Soviet intellectuals might dare to be in a time of cultural disruption and erotic innovation. Watching over this scheme, the secret police amassed careful files which would later weigh against Barchenko and Bokii, as Stalin's paranoid executioners extracted confessions interspersed with salacious details from the brief heyday of 1920s radical indulgence. These reports were edited by the secret police to condemn a decade-and-a-half later culprits who flouted convention in the first flush of triumphant Red fervor.
One who escaped the purges, Nicholas Roerich, takes on the role of a lifetime. Already well-versed in an odd mix of New Age and messianic ambitions, he and his wife had left tsarist Russia. This charismatic if manipulative pair of artists and occultists used whomever they could to further their hopes of a "Great Plan" that would unite Tibetan Buddhists across all of Inner Asia under the Panchen Lama. They even convinced a future vice president under FDR, Henry Wallace, to support their ideals, and the Roeriches erected a "Master Building" as a world headquarters which still stands on Riverside Drive today in Manhattan. The Roeriches dreamed of converting the planet to their scheme of transformed equality via enchanted transports of visions.
For a while, after the revolution, the determined couple returned to Red Russia to reconcile their ambitions with those of Marxism. They calculated that they could advance their plan better by aligning it with communist ideals of communal equality. They convinced a coterie to join them, financially or in person, to hasten their takeover of Central Asia, the epicenter for what they saw as an inspirational revolt of the peasants and monks against their lamas and warlords. The Roerichs donned costumes and roles as if natives. Nicholas posed as a reincarnation of the Fifth Dalai Lama so as to convince the local people of his mission.
He and his entourage plotted with the Soviets and indigenous sympathizers carefully, but their plans to enter Tibet to make it a Marxist-Buddhist realm akin to the region of Mongolia—that region had recently been swayed by prophetic revisions to accept a materialist-millenarian combination of mystical overlords and enforced communism—rapidly failed. The party nearly froze before they were allowed to enter the suspicious and firm jurisdiction of the British representative over the Himalayas in Sikkim. There ironically their claims that the Soviet mission had for its success to overthrow British dominion in India were proven, if indirectly.
The narrator comments how Roerich wore a face like a mask, one that it appeared he could remove at will. The couple, as with the other protagonists in this dramatic episode from early Soviet history, appears often as if to act with disguised motives. Znamenski uncovers in the archives of the secret police and recent studies from Russian-language sources the hidden facts unknown to the players then or until very recently scholars at large.
The early Bolsheviks boasted: "We are born to make a fairy tale into reality." For a few years, they tried to do this, in an unbelievable and rather cynical fashion. They chose to distort shamanistic teachings to play into mass resentment against imperialism and to upset the poor who would then presumably wish to seize wealth. While the juxtaposition of Buddhism with its teaching on non-attachment and Marxism with its materialist class warfare clash, this disparity escapes any comment by those participating in its proclamation in these pages.
The Soviets in hindsight tolerated the games of the Buddhist role-players as useful to their own strategies. For instance, they had the Roerich party travel under the Stars and Stripes so if their mission met with unwelcome attention, it could be disowned by the communists; if successful, it could undermine the White Russian refugees fomenting trouble, while it strengthened the power of native nationalists, who would be employed by Soviet interests to counter Japanese imperialism edging by the 1930s into Inner Asia.
By the time of the Japanese takeover of Manchuria, the U.S.S.R. tolerated less imaginative methods of exporting Marxism. The failure of world revolution to spread westward and Stalin's fears of rebellion caused the Soviets to contract their power inward. The fascist Japanese and the wary British were both feared. The Great Terror caught up those who had provided the vanguard of Soviet rebellion back in 1917. Even those who tortured and murdered Barchenko, Bokii, and thousands of loyal communists from the days of Lenin were themselves put to death a couple of years later. Stalin eliminated the cadre of any rivals to his regime, imagined or actual.
Near the end of this history, Znamenski tells of a representative vignette in this sorry saga. A former junior lama took over Mongolia as a communist fanatic. He vowed to make the feudal system into a more equitable one. He killed resisting monks and lamas and drafted the compliant remnants into the army or concentration camps. By 1940, the Mongol Buddhist clergy was wiped out. The lamas were sent off to Siberian prison camps. But many thought they were headed to northern Shambhala, the predicted land of bliss.
Those lacking specialized knowledge of arcana have not learned much of this story, for until the fall of the Soviet Empire, many records have been sequestered or linger in Russian-language academic journals. A few very minor slips in English usage reflect the author's Russian origins, but these occasions are far outweighed by the valuable contributions he provides so the rest of us can learn about these events and their scholarly sources. The transcripts forced out of doomed prisoners about their role in this Red Shambhala project make for poignant reading.
They remind us of the fragile nature of idealism, and the moral costs of suppressing those who tried to temper the fury of the Red victory with some sensitivity to the cravings of the spirit and the capabilities of the mind. While the practical experiments of laboratories bent on superhuman creations failed as surely as did the subversive aims to spark revolt on the Mongol plains or in the Tibetan monasteries, the lesson of this unbelievable plot lingers in this thoughtful, instructive, and sad testament of grand hopes and puny fates.
Source http://www.popmatters.com/column/145123-red-in-process/
---
Internet, Video, Audio:
Red Shambhala Facebook page
www.facebook.com/pages/Red-Shambhala/152315911468201
Tibet and Occult: Red Shambhala with Andrei Znamenski
At the Rubin Museum of Himalayan Art:
www.youtube.com/watch?v=k5XCcUzeA1U
www.youtube.com/watch?v=ks2-ZpZrvKU&feature=related
Red Shambhala with Andrei Znamenski
Interview for Online with Andrea Radio www.blogtalkradio.com/onlinewithandrea/2011/09/13/red-shambhala-with-andrei-znamenski
The East is Red (Magonia Review of Books)
pelicanist.blogspot.com/2011/07/east-is-red.html
Review of the book by Rene Wadlow for Transnational Perspectives
www.transnational-perspectives.org/transnational/articles/article643.pdf
Review of the book at Blogtrotter
 http://fionnchu.blogspot.com/2011/11/andrei-znamenskis-red-shambhala-book.html
Review of the book - The Japan Times
http://www.japantimes.co.jp/text/fb20111016a1.html
---
Trimondi Magazine features Red Shambhala
Public Radio – Interview with Andrei Znamenski    
Paranormal Plus Club Interviews RED SHAMBHALA author Andrei Znamenski
Blogtalkradio – The-hermetic-hour – Interview with Andrei Znamenski 
Ja-Lama, ruthless warlord from Mongolia, maguswest channel
Red Shambhala: Magic, Prophecy, and Geopolitics in the Heart of Asia
Tibetan Buddhism, Communism, and Totalitarian Temptations
"Don Croner's World Wide Wanders" profiles Red Shambhala
Baron von Ungern Sternberg as Mahakala
---
Vita:
Historian, anthropologist and translator, Andrei Znamenski was a resident scholar at the Library of Congress, and then a foreign visiting professor at Hokkaido University, Japan. He has taught various courses at The University of Toledo, Alabama State University, and the University of Memphis.  Among them are World Civilizations, Russian history, and the History of Religions. 
Znamenski's major fields of interests include the history of  Western esotericism, Russian history as well as indigenous religions of  North America, Siberia, Inner Asia, particularly Shamanism and Tibetan Buddhism.  Znamenski lived and traveled extensively in Alaska, Siberia, and Japan.  His field and archival research among Athabaskan Indians in Alaska and native people of the Altai (Southern Siberia) resulted in the book Shamanism and Christianity: Native Responses to Russian Missionaries (1999) and Through Orthodox Eyes: Russian Missionary Narratives of Travels to the Dena'ina and Ahtna (2003).
After this, Znamenski became interested in the cultural history of Shamanism.  Endeavoring to answer why shamanism became so popular with Western spiritual seekers since the 1960s, he wrote The Beauty of the Primitive: Shamanism and Western Imagination (2007) and edited the three-volume anthology Shamanism: Critical Concepts (2004).  Simultaneously, he continued to explore shamanism of Siberian indigenous people, traveling to the Altai and surrounding areas, which led to the publication of Shamanism in Siberia (2003). Between 2003 and 2004, he resided in Japan, where along with his Japanese colleague, Professor Koichi Inoue, Znamenski worked with itako, blind female healers and mediums from the Amori prefecture.